---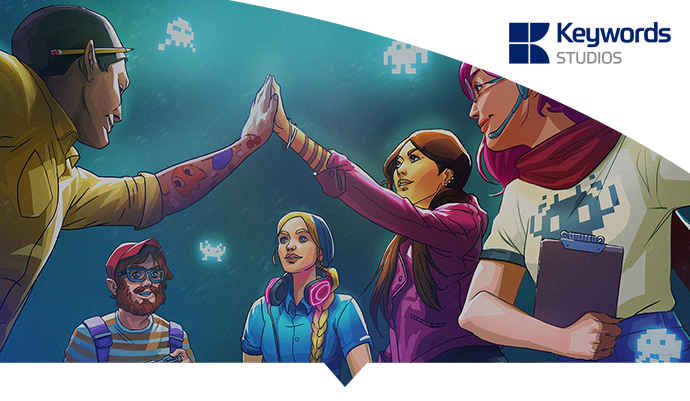 Keywords Studios is an international technical service provider to the global Video Game Industry with 45 offices across 20 countries and 4 continents. The organization employs over 5,000 people at peak times working in over 50 languages. Each year, we produce over 80,000 art assets, 21 million words of audio, 250 million words translated, 2.5 million hours of testing and resolve 16 million customer support tickets. We work with 24 of the Top 25 games companies by revenue for 2017.
Keywords FQA is one of Keywords Studios brands offering Functional QA services. KWS Katowice offers FQA, Localisation QA and Player Support services to our clients.
The Production Support Technician is responsible for providing adequate support and expertise to the Production department and making sure that everything required by a project is deployed for the team.
Main responsibilities will be in particular:
Provide professional and timely technical support to Production.
Responsible for builds, firmware and image preparation and deployment, workstations setups, in accordance to Production expectations and project plans & requirements.
Maintain an asset tracking database and will transfer knowledge to the other members of the team.
Assist with floor planning and hardware & device allocation.
Initiate research projects to expand and consolidate our department knowledge.
Comply with the security and confidentiality policy set by the company and ensure all team members comply to policies.
The Production Services Support Technician could also be assigned to a special project that is outside of the normal Production Services usual scope.
Requirements:
Fluent in English – written and spoken.
Commitment to professional customer service.
Must possess 'can-do' attitude.
Ability to work effectively and decisively under pressure.
Highly organized with the ability to prioritize tasks and multi-task.
Ability to analyze problems, recommend and implement effective solutions.
Actively approaches others for their ideas and suggestions.
Flexibility and availability of work hours, including evening, night and weekend.
Quickness and accuracy of execution.
Ability to work on own initiative and monitor own workload.
Ability to work with strict deadlines.
Ability and aptitude to learn.
Strong self-motivation, reliable and flexible team player.
High attention to detail.
Follows correct process or clearly communicates on any necessary deviations.
Based in Katowice or available for relocation.
Desirable:
Understanding of the gaming industry.
Good understanding of media creation and duplication.
Good understanding of mobile devices technology.
Knowledge of console gaming platforms, such as Sony, Microsoft and Nintendo platforms.
Has relevant IT skills in order to work with different software and hardware required for projects.
Good knowledge of Microsoft Office 2010/2013/Office 365 (Word/Excel/Access/Outlook).
Understanding of software development process.
We offer:
Employment contract.
Possibility to grow within the gaming industry.
Work on interesting projects!
Benefits package - private medical care & MultiSport card.
Chill-out zone with video games.
Salary depending on your profile and experience.
Free parking space.
Free beverages & fresh fruits.
Friendly atmosphere.
Pleasant location in the business area "Green Park".
Company parties.
PLEASE SEND YOUR APPLICATION IN ENGLISH.
Good luck and we look forward to meeting you!
We kindly ask you to include the clause in your CV:
Zgodnie z art. 6 ust. 1 lit. a Rozporządzenia Parlamentu Europejskiego i Rady (UE) 2016/679 z dnia 27 kwietnia 2016 r. w sprawie ochrony osób fizycznych w związku z przetwarzaniem danych osobowych i w sprawie swobodnego przepływu takich danych oraz uchylenia dyrektywy 95/46/WE (ogólne rozporządzenie o ochronie danych) wyrażam zgodę na przetwarzanie moich danych osobowych zawartych w ofercie pracy dla aktualnej i przyszłych rekrutacji.
Please note that only selected candidates will be contacted.
---
Zgodnie z art. 13 ust. 1 i 2 Rozporządzenia Parlamentu Europejskiego i Rady (UE) 2016/679 z dnia 27 kwietnia 2016 r. w sprawie ochrony osób fizycznych w związku z przetwarzaniem danych osobowych i w sprawie swobodnego przepływu takich danych oraz uchylenia dyrektywy 95/46/WE (ogólne rozporządzenie o ochronie danych) informujemy, że:
administratorem Pani/Pana danych osobowych jest Sperasoft Poland spółka z ograniczoną odpowiedzialnością z siedzibą w Krakowie, ul. Na Kozłówce 27, 30-664 Kraków, wpisanej do Rejestru Przedsiębiorców Krajowego Rejestru Sądowego prowadzonego przez Sąd Rejonowy dla Krakowa – Śródmieścia w Krakowie XI Wydział Gospodarczy KRS pod numerem 0000547960, NIP: 6793108964,
dane osobowe przetwarzane będą na podstawie udzielonej przez Panią/Pana zgody zgodnie z art. 6 ust. 1 lit. a ogólnego rozporządzenia o ochronie danych w celu tej i przyszłych rekrutacji; przysługuje Pani/Panu prawo do wycofania zgody w dowolnym momencie, przy czym cofnięcie zgody nie ma wpływu na zgodność przetwarzania, którego dokonano na podstawie zgody przed jej cofnięciem,
Pani/Pana dane osobowe będą przechowywane aż do ewentualnego wycofania przez Panią/Pana zgody na przetwarzania danych w procesie rekrutacji, nie dłużej niż przez okres 1 roku od wyrażenia zgody,
podanie przez Panią/Pana danych osobowych jest dobrowolne, ale niezbędne do osiągnięcia celu; skutkiem odmowy podania przez Panią/Pana danych osobowych będzie brak możliwości uczestniczenia w procesie rekrutacji,
przysługuje Pani/Panu prawo żądania od administratora dostępu do danych osobowych, ich sprostowania, usunięcia lub ograniczenia przetwarzania, prawo do przeniesienia danych, wniesienia sprzeciwu wobec przetwarzania danych w przypadkach określonych przepisami ogólnego rozporządzenia o ochronie danych osobowych, a także prawo do wniesienia skargi do Prezesa Urzędu Ochrony Danych Osobowych. W przypadku pytań dotyczących przetwarzania danych osobowych prosimy o kontakt pod adresem e-mail: rekrutacja.katowice@keywordsstudios.com
---